CMD COSMINC504 - At a glance
CosminC504 securely encapsulates pure Vitamin C to be stable against water, air, sunlight, and heat
Country of Origin:
South Korea
The detail on CMD COSMINC504
from

COSMODEC

CosminC504 – unlike conventional Vitamin C derivatives in the market, securely encapsulates pure Vitamin C to be stable against water, air, sunlight, and heat. Due to its excellent stability and formulation compatibility.
CosminC504 is ideal for any conventional applications including emulsification.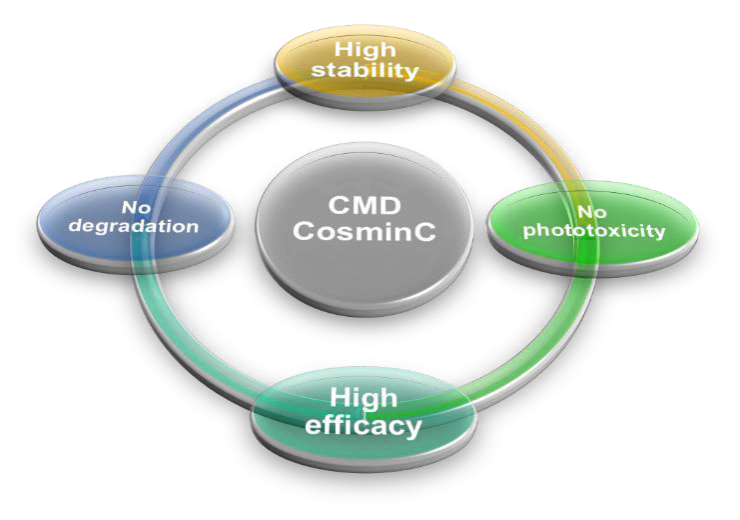 Vitamin C is widely considered an anti-aging powerhouse ingredient.  Ascorbic Acid has many known skin benefits such as brightening and giving an even skin tone, reducing fine lines and wrinkles, boosting collagen production, as well as having proven antioxidant properties.
However, the low stability of Vitamin C is a major challenge in formulating effective skincare products with this ingredient.  Pure ascorbic acid is extremely sensitive to water, air and light, resulting in loss of activity and discoloration over time in varying conditions.
CosminC504 utilizes the Smart Bio-Shell delivery system to stabilize pure ascorbic acid against water, air and sunlight.  The delivery capsule is composed of natural polymers that are skin friendly with good texture and adhesion to the skin, and this unique system is easily dispersible in water.
CosminC504 offers a stable delivery of pure Vitamin C that has high efficacy compared to Vitamin C derivatives.
Smart Bio-Shell Delivery System
High Stability Against Water, Air and Sunlight
No Discoloration
No Phototoxicity
Made with Natural Polymers
Easily Dispersible in Water
Positive Zeta Potential

Strong Adhesion to Skin
Better Skin Penetration than Pure Ascorbic Acid
Vitamin C Benefits in Cosmetic Applications:
Strong Antioxidant
Skin Lightening and Brightening
Collagen Biosynthesis
Wrinkle Reduction
Photo Protection and Melanin Reduction
Diminish Age Spots
Skin Moisturization
 FULL INCI: Water, Volcanic Soil, Ascorbic Acid, Amylopectin, Hyaluronic Acid, 1, 2-Hexanediol, Ethylhexylglycerin 
Request your sample of CMD COSMINC504 below
Sample requests from Unifect – what you need to know
All sample requests are given the highest priority and turn round time for items we hold in stock is usually 24 hours although samples held by suppliers may take up to 10 days.

Our standard sample size is 50g but may vary according to the nature of the product.

On receipt of your sample request, you will receive a confirmation email with details of the sample requested, the sample size and an estimated delivery time.
Complete the form below to request your sample of CMD COSMINC504
Thanks your sample request is on its way to us. We will be in touch shortly
There has been a problem submitting your enquiry. Please try submitting again
A few more great products from Unifect
Add value to your business – take advantage of our unique supplier relationships