EGF PLUS - At a glance
EGFPlus strongly promotes skin cell division and growth, and stimulate the synthesis and secretion of extracellular macromolecules such as Hyaluronic acid and Glycoproteins

EGF Plus sh-Oligopeptide-1 (sh-EGF) :is a single chain recombinant human peptide, produced by fermentation in E. coli. The starting gene is synthesized to be identical to the human gene which codes for EGF (Epidermal Growth Factor). Its structure and activity are identical to human nature EGF.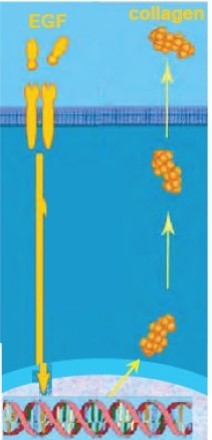 EGF was discovered by two scientists – Dr.  Stanley Cohen and Professor Rita Montalcini in 1962
EGF is naturally present in the human skin cells, and its content directly affects the speed of new skin cells growth and differentiation which determines the extent of  young looking skin
EGF is an important human endocrine growth factor, distributed in animals and human body fluids. A trace amount of EGF can strongly promote skin cell division and growth, and it can also stimulate the synthesis and secretion of extracellular macromolecules (such as Hyaluronic acid and Glycoproteins).
EGF Plus
Function:
Reducing wrinkles and fine lines by activation of the skin cells;
Improve skin condition,Making the skin energetic and lively;
Nourishing、smoothing、lightening skin and rejuvenation
Promoting skin cell grow,scar removal
EGF is a safe, natural, effective skin anti-aging factor, it is  globally recognized.
EGF Plus has good stability at room temperature to maintain EGF activity to take full advantage of the biological activity of EGF.
Usage:
EGF Plus should be added at the last step, at a temperature below 45℃.
Recommended dosage:
1ml EGF Plus is equivalent to 10000 ±30%  IU.
Eye Essence: 1-10% (Equivalent to 100-1000IU/ml) ;
Day cream or Night cream :1-8% ( Equivalent to 100-800IU/ml);
FULL INCI:  sh-Oligopeptide-1, Mannitol, Glycerin, Phenoxyethanol, Ethylhexylglycerin, Water
Request your sample of EGF PLUS below
Sample requests from Unifect – what you need to know
All sample requests are given the highest priority and turn round time for items we hold in stock is usually 24 hours although samples held by suppliers may take up to 10 days.

Our standard sample size is 50g but may vary according to the nature of the product.

On receipt of your sample request, you will receive a confirmation email with details of the sample requested, the sample size and an estimated delivery time.
Complete the form below to request your sample of EGF PLUS
Thanks your sample request is on its way to us. We will be in touch shortly
There has been a problem submitting your enquiry. Please try submitting again
A few more great products from Unifect
Add value to your business – take advantage of our unique supplier relationships