Featured Product:
Rhassoul Clay
Totally natural and biological

Rhassoul Clay is one of over 2000 uniquely effective ingredients in our product catalogue. Find out more about this product from Société du Ghassoul below
Rhassoul Clay - At a glance
Rhassoul clay is well known for its incomparable ability to absorb impurities and promote the strength and radiance of the skin and hair
Minimum Order Quantity:
25kg
Ecocert/Organic Approved:
Yes
More about Rhassoul Clay
from Société du Ghassoul
Rhassoul Clay or 'Ghassoul' is an ancient volcanic clay which was formed under the Atlas Mountains in Morocco and has been used for more than twelve centuries by the peoples of North Africa and the Middle East.
The clay deposits are deeply buried which makes them very difficult to obtain and highly valued throughout history as a beauty resource .   It is naturally biodegradable, 100% mineral and extracted in a way which respects local water systems and rivers.
Our Supplier: Société du Ghassoul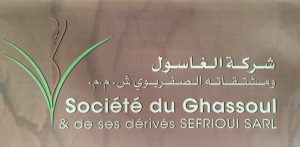 Société du Ghassoul sustainably extract the only known deposits of Rhassoul Clay in the world and have developed Rhassoul based products for innovative cosmetic applications
Find out more about Société du Ghassoul
Download Product Datasheet
Please complete the form below to get your download emailed to your inbox.
Thanks we have emailed the file to your inbox.
There has been a problem submitting your enquiry. Please try submitting again
Request your sample of Rhassoul Clay below
Sample requests from Unifect – what you need to know
All sample requests are given the highest priority and turn round time for items we hold in stock is usually 24 hours although samples held by suppliers may take up to 10 days.

Our standard sample size is 50g but may vary according to the nature of the product.

On receipt of your sample request, you will receive a confirmation email with details of the sample requested, the sample size and an estimated delivery time.
Complete the form below to request your sample of Rhassoul Clay
Thanks your sample request is on its way to us. We will be in touch shortly
There has been a problem submitting your enquiry. Please try submitting again
Some other great products from Unifect
Add value to your business – take advantage of our unique supplier relationships